Happy Birthday To All The LWCC SAGES and SAGES In-Training!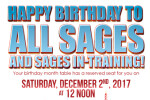 Your birthday month table has a reserved seat for you on
Saturday, December 2, 2017 at 12 noon
Bring a Birthday Gift for the Wheeler Mission Women's Shelter
Don't Miss the Fun, Fellowship, and Food! It will be a great celebration!
Register at the SAGES table in the Narthex